Racing has long paved the way for a plethora of performance and safety innovations for road cars. Think anti-lock brakes, carbon fiber, paddle shifters, and rear-view mirrors, to name several. The racetrack is often a test bed to experiment with these features before homologating them into road vehicles.

That trickle down continues in the latest high-performance Firehawk AS V2 road tire, which benefits from go-fast IndyCar tech. (Firestone has been the exclusive tire supplier for IndyCar racing ever since Ray Harroun's victory in the first running of the Indy 500.) This rain tire specifically is significant because Firestone claims that it's 2.1 seconds faster than version one (on a lap around a wet racetrack). If true, that's a big, impressive leap—more so than we typically see between generations of tires. We talked with Firestone's engineering team to see how they did it and what it could mean for your driving if you splurge for a set.
Simulating Tread Patterns
The NTT IndyCar series features the fastest open-wheel race cars in the United States. Firestone needed to design a rain tire that could compete with the vicious power and downforce of a purebred IndyCar machine. That's great, but you might be asking how that wet-weather performance benefits mere mortals like you and me while we drive on the street.
More From Popular Mechanics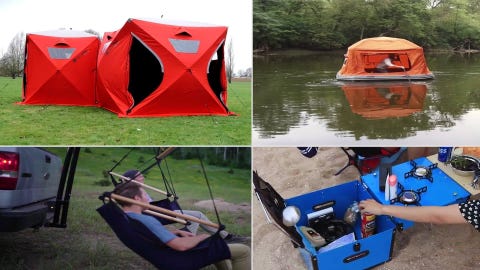 Firestone's racing division used Computational Fluid Dynamics (CFD) software to analyze and perfect how the tread pattern interacted with a layer of water on the road. "A lot of tire manufacturers talk about the water flowing through the tread, but it actually almost slaps the water out of the way," says Dale Harrigle, Firestone's chief engineer of consumer replacement tires. These CFD simulations allowed the engineers to play with different tread patterns to find the best performer before spending money on prototyping.

Engineering Versus Compromise
So we know these tires are inspired by the IndyCar rain tire. However, while the Indycar tire can be tuned solely for outright performance, road tires present a whole different set of challenges. Road-going rubber needs to perform well while lasting up to 50,000 miles, working in dry, wet, hot, and cold conditions. "You're going to have people who drive very extremely on their tires, and you're also going to have others who treat every day like a Sunday drive," says Ian McKenney, Firestone's senior product manager for consumer replacement tires. The goal here is to cater to every customer's needs. But how does Firestone find and accomplish this balance?
"The tread compound working in concert with the tread pattern produces the performance increase we've seen over the previous tire," says Harrigle. The latest Firehawk road tire features high amounts of silica in the tread compound to increase traction in wet conditions; compared to the original Firehawk AS, the V2 shaved 2.1 seconds from the wet lap evaluation at the track and helped the test vehicle stop 5 feet shorter in the snow—all while keeping mostly the same dry performance and tread wear reasonable.
That's well and good, but tire engineers are constantly dealing with compromises when designing new rubber. "There are fundamental design targets that have yet to be resolved with current technology," says Jonathan Benson, an independent tire-testing expert and founder of Tyre Reviews—adding that changes in tread/compound generally produce very incremental improvements over massive breakthroughs. Despite Firestone's mention of outperforming General Tire and BFGoodrich in snow braking and wet lap times, it still appears to be outclassed by bigger brands like Michelin and Pirelli.
Why This Is a Big Deal
Benson had more to say on this Ultra-High Performance All-Season category of tires: "It's a type of tire that doesn't work super well because you're trying to blend too many things. Snow and high-performance are opposing design targets with regards to rubber compounding and construction." Rubber can only really be good at one task. For example, engineering winter performance into a tire that's aimed for track use will decrease dry and wet performance.
He was also quick to mention that this Ultra-High Performance All-Season category doesn't really exist outside of America. "I think a lot of people in the industry are also trying to direct the naming of these to three-season tires," says Benson. They really aren't designed to work well in heavy snow or ice. Tire manufacturers in this category have to choose a delicate balance between dry, wet, and winter abilities.
The Upshot
Summer tires will always reign supreme when it comes to outright performance. However, these are only usable in, well, summer conditions; with Popular Mechanics being stationed in eastern Pennsylvania, we get only a handful of usable months on summer rubber. All-season or even extreme winter tires are the norm for us East Coasters.
The improved track-performance of Firestone's latest Firehawk is only scratching the surface. As an added benefit, they can keep you safe in cold and wet conditions—all thanks to better traction and lower stopping distances. That being said, when the snow starts to fall, we'd still probably look for a dedicated winter tire.
Matt Crisara is a native Austinite who has an unbridled passion for cars and motorsports, both foreign and domestic, and as the Autos Editor for Popular Mechanics, he writes the majority of automotive coverage across digital and print. He was previously a contributing writer for Motor1 following internships at Circuit Of The Americas F1 Track and Speed City, an Austin radio broadcaster focused on the world of motor racing. He earned a bachelor's degree from the University of Arizona School of Journalism, where he raced mountain bikes with the University Club Team. When he isn't working, he enjoys sim-racing, FPV drones, and the great outdoors.