The Takeaway: Since the 2019 launch of the originals, AirPods Pro have served as Apple's flagship wireless earbuds, with high-end sound and features. But a lot can change in three years. The then-nascent high performance wireless earbud market has grown crowded, with options from Bose to Sony.
To keep up with the competition, Apple announced the second generation of its AirPods Pro at its Far Out event last month. The company has put in the work on its new H2 chip and top-side speaker placement to create richer audio with more effective noise cancellation. That's in addition to enabling a suite of new features including Adaptive Transparency mode and personalized spatial audio. Even the charging case gets an upgrade, with new built-in speakers and a U1 chip, which essentially turns it into an AirTag. Most changes take place under the hood, so those hoping for a redesign are going to be disappointed by the same in-ear fit and basic white color, which hasn't changed from the first generation AirPods Pro.

---
Same Design, New Features
After removing the new AirPods Pro case from their box and laying them alongside the originals, I couldn't immediately discern the new upgrades. In the picture below, the original AirPods Pro case sits on the left, while the next generation is on the right. The first change I noticed was the metal lanyard loop, which is visible on the right side. Now you can attach the case to a backpack or keychain without a third-party accessory. It may seem like a minor point, but not even AirTags offer an attachment option, requiring a separate case to click them onto your everyday carry gear.
More From Popular Mechanics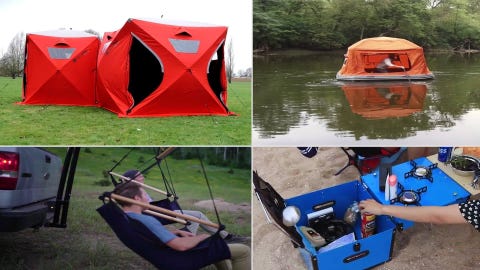 Next up is the new speaker holes running along the bottom of the case to relay status tones such as low battery or ringer for Apple's Find My item tracking. The case speakers are surprisingly loud, registering a peak volume of 67 decibels out on a table from 10 feet away, according to our sound meter. But even while tucked away in my pants pocket or buried under a pile of laundry, the case's ring came through loud and clear. I had a harder time hearing the speakers when the case was inside of a backpack filled with my MacBook and clothes. Our sound meter registered it at just 46 decibels. Both of these additions so far are welcome but not necessarily game-changing.
Inside the updated charging case is a larger capacity battery that provides the AirPods with up to 30 hours of battery life. Previously the buds could just reach 24 hours of playback between charges. This boost is accompanied by an increased 6-hour battery life per bud (up from five). And I repeatedly pushed the new Pros over the 6-hour limit, averaging 6 hours and 15 minutes while listening to Spotify at 33 percent volume with active noise cancellation (ANC) on. There's a lot this extra 15 minutes affords you; I was able to return from my lunch break, work until the end of day, and still listen to tunes while grocery shopping without having to throw them back in a case. Meanwhile, the older AirPods Pro usually last me just over 4 hours with ANC enabled.
When it's time to recharge the AirPods, you're no longer locked to either Apple's proprietary Lightning cable or a wireless Qi charging pad. The AirPods Pro 2 also charge off of MagSafe and the Apple Watch puck. This versatility ensures that you'll have plenty of ways to juice them even if your Lightning cable is plugged into your phone. In my case, I keep this keychain Apple Watch charger on me at all times, and it can now pull double duty for charging the AirPods.
The U1 ultra-wideband chip Apple uses in its AirTags to enable Precision Finding has made its way to the new AirPods' case. When—not if—you eventually misplace the case, you can use this GPS-like feature to guide you to within an inch of it. The spatial tracking uses a mix of sensors and AR tech for impressive distance accuracy. This is a noteworthy addition, because now you can throw your AirPods Pro case into a backpack or purse and keep an eye on both items simultaneously within the FindMy app. On the previous generation, you were stuck to the buds themselves playing a faint sound—if they were placed in the case you were unable to play a sound and forced to manually search around for them.

Removing the Pros from their case reveals a speaker grille at the top of each bud, instead of the bottom, for improved ANC and sound quality. Despite the new chip, the second-gen Pods are the same size and weight, with a new extra-small tip option for a better seal in little ears. The stems now support gesture touch controls—give them a swipe to adjust volume, while a pinch controls playback. While a good idea on paper, I found using these controls actually knocked the pods loose. Sure there are times when a quick song skip is great. But even after two weeks, I find that these don't add much to the AirPods experience. That's where the new sound comes in.
Outstanding Audio With Enhanced Listening Modes
Popping the AirPods Pro into my ears felt familiar, without any changes to the rounded design. Finding the right size silicone tips included in the box helps you create an excellent seal for passive isolation and comfort in your ears. You can test this with the Ear Tip Fit Test option from the settings, which plays a sound and uses onboard microphones to check for leaks. There are three sound profiles to choose from; Noise Cancellation, Off, and Transparency. I ran the gamut of song genres, listening to hip-hop, alternative, pop, rock, electronic, and even some Symphony No. 5.
Though the fit was much the same, the audio coming from the AirPods sure wasn't. Sound isn't so much fuller in these as it is noticeably fuller with background detail. The H2 chip pairs with a new amplifier that produces richer bass and clearer sound. It pains me to admit that I love Nu Shooz's '80s hit I Can't Wait and often use it as an audio benchmark. But the song has many different vocals, layers of instruments, and shifts for getting a sound system firing on all cores. I've heard the song many a time while testing sound bars, but it has never sounded this good on wireless earbuds at this price. The bass line along the opening high-pitched synth is much more perceptible, as are punchier accents on the percussion. This also better captures the lead singer's vocal subtleties, but in the backing lyrics really pop, whereas they fall by the wayside coming from the original Air Pods. Is it different from the original AirPods? Absolutely. With an original in my right ear and a new AirPod Pro in my left playing simultaneously, I could hear the depth and enhanced vibration behind strings and drums of each song I threw at it.
Noise cancellation is drastically stronger. I played bits of this clip of construction work at my MacBook's full volume (averaging 81 decibels ands peaking at 93) to simulate a work zone while sitting 16 inches away from the speakers. With both headphones' volume set at halfway, the new AirPods Pro virtually eliminated almost all sound, save for a hammer strike breaking through. Meanwhile, I could clearly hear moving gravel and power saws over the music coming from the original AirPods Pro. They did at least remove the constant clanking decently well. Still, despite the richer sound and more effective noise cancellation, the new Adaptive Transparency mode is the real standout on the audio front.
Transparency mode on the original AirPods used onboard microphones and the H1 chip to analyze outside sound and shape it to weave your music with surrounding sounds and voices to keep you aware of your environment. It worked extremely well but could occasionally create a crackling noise. The new tech in H2 and higher rates at which it analyzes audio reduces loud, unwanted environmental noises—like a siren or construction site—while smartly boosting other ambient sounds. In the past a sudden loud noise while you were in this function shifted the AirPods into ANC mode to prevent blowing out your ear. While talking to a coworker, the loud hum of our office's air conditioner made it sound like I was talking to them on a car speaker phone while they were in a plane cabin. With the new AirPods Pro, my coworker's voice was amplified along with footsteps of others in the building, blocking out everything else I didn't need to hear.
Personalized Spatial Audio can now use iPhone's TrueDepth cameras to scan your ears and deliver a personalized sound according to their shape. I set this up in the settings by rotating and turning my head as my iPhone captured a series of selfies. Compared to the already excellent original spatial audio, which accurately places sounds in a space around you, I was hard pressed to tell the difference. Sound moved slightly better, but otherwise this felt like more of the same.
The Verdict
In the grand landscape of wireless headphones under $250, Apple's second-generation AirPods Pro sound quality restores its place as a top contender. Its sound is better than the $199 BeatsFit Pro in all modes. But the stem and tip design isn't for everyone, whereas the BeatsFit Pro provide a more comfortable and secure fit with wing tips. Not only are the BeatsFit Pro cheaper, they also have Apple's older H1 chip, so they offer the same one-tap setup, automatic switching, and audio-sharing features of AirPods across iPhone, iPad, and Mac devices. And even against Sony's impressive $199 LinkBuds S with some of the strongest noise cancellation, the Pros held their own while better mixing little audio flourishes and effects. On the other hand, the Sony companion app allows for automated listening features across both Android and iPhone, like automatically switching to transparency mode when you speak then going back to playing music. It even uses your location to identify your listening habits and switch to profiles when you arrive. But in terms of pure sound performance the new AirPods Pro are better than both earbuds in its price range.

At $250, the second-generation AirPods Pro are a worthy upgrade from the originals if you want better sound or religiously use the ANC or Transparency modes. Don't let the lack of physical change in design dissuade you—the quality-of-life updates don't change what already works. If you wouldn't consider yourself an audiophile looking for those little details behind the sound, the original AirPods Pro are still capable and often go on sale for just $170.
Hunter Fenollol, our resident expert of all things consumer tech, from smart home to VR gaming headsets, has years of knowledge creating product explainers, in-depth reviews, and buying guides to help you get the most from the latest electronics. Throughout college, he covered and reviewed the latest gadget releases for sites like Tom's Guide, Laptop Magazine, and CNN Underscored. If he's not elbow-deep in the latest hardware, you can find Hunter at one of Long Island's many beaches, in Manhattan, or gambling away his paycheck.