The Speed Square is arguably one of the most useful tools when it comes to building. Originally designed to be used in framing homes, and sometimes referred to as a rafter square, it facilitates layout operations. It features markings that help speed up repetitive common procedures when framing walls or cutting rafters. Though it was originally developed by the Swanson Tool Company, there are dozens of companies making similar rafter squares now. However, Swanson's Speed Squares are typically packed with more features than others.
If you get the Speed Square Pro, as I did, it comes with Swanson's Blue Book, which contains instructions and explanations of the geometry, calculation, and layout of virtually any rafter configuration. If you're not a builder by trade, framing every day, it's a fantastic resource. Aside from framing though, the Speed Square sees use on just about every woodworking project I do—it's one of my most-used tools. Build sheds, shelves, firewood racks, picnic tables, Adirondack chairs, work benches, saw horses. You name it, and a Speed Square will be useful making it.
While some folks find all the markings on the Speed Square a little intimidating at first, they're not difficult to understand once you see how they're used. Below, we'll explain the tool's eight most common uses.
More From Popular Mechanics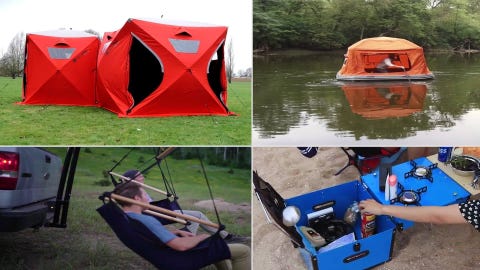 Marking Right Angles

Marking Any Angle
Serving as a Saw Guide

Squaring Up Joints

Marking a Line Parallel to an Edge
Laying Out Top and Bottom Plates for a Wall
Laying Out Plumb Cuts on Ridge and Tail of Rafters
Marking Birdsmouth Cuts on Rafters
That's just a sampling of what you can do with Swanson's Speed Square. For more complex configurations, check out the brand's Blue Book I mentioned.

Brad Ford has spent most of his life using tools to fix, build, or make things. Growing up he worked on a farm, where he learned to weld, repair, and paint equipment. From the farm he went to work at a classic car dealer, repairing and servicing Rolls Royces, Bentleys, and Jaguars. Today, when he's not testing tools or writing for Popular Mechanics, he's busy keeping up with the projects at his old farmhouse in eastern Pennsylvania.