IFA is an annual tech showcase that takes place in Berlin every September. While CES kicks off each new year with a look at future-facing gadgets and concepts (some of which never come to market), the products launched at IFA are imminently due on store shelves. Major brands like Samsung, Lenovo, and LG showed off everything from tablets to TVs, pushing higher refresh rates, clearer sound, and even foldable screens. Here's which new gadgets caught our eye.
Lenovo ThinkPad X1 Fold Laptop
Lenovo's ThinkPad X1 foldable laptop features a vibrant 16-inch OLED screen that flexes to meet your needs. You can use it as a large 16-inch display with its crisp 2024 x 2560 pixels resolution for working or sketching, or fold it in half to create a 12-inch laptop that pairs wirelessly with a detachable magnetic keyboard. While this design saves space in your bag, it doesn't skimp on power with a 12th-gen Intel CPU, Iris Xe graphics, and up to 32 GB of RAM powering the display and system for a snappy Windows experience. It rings in a full $1,000 less than the show's other major competing foldable laptop, the Asus Zenbook 17 Fold OLED. Lenovo clearly isn't hurting in the innovation department, as the brand also lifted the curtain on T1 smart glasses as well as its new IdeaPad 5i laptop, which brings the first 120-Hz OLED screen to a Chromebook.
Available November 2022 from $2,499
More From Popular Mechanics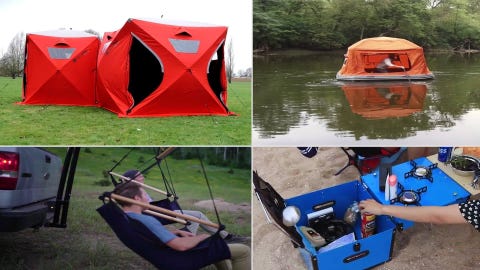 Samsung Odyssey OLED G8 Monitor
Computer monitors as a category had one hell of a show, with LG and Samsung duking it out with one reveal after the other. Samsung's Odyssey earned our top pick with its OLED G8 that can reach a refresh rate of up to 175 Hz at a 3440 x 1440 QHD resolution. This display creates true blacks for more vivid colors that pop. And when you're not gaming, it has a built-in OS to function like a smart TV that can download streaming apps like Netflix or Xbox Game Pass. And it's equipped with Core Lighting+ ambient backlighting that syncs with the content shown on screen. This is a huge step up from previous Samsung Ultrawide monitors, with punchier colors, smoother motion, and an overall sharper picture.
Available later in 2022 for $1,400
Leica Cine 1 Projector
Leica's first entry into the ultra short-throw projector space condenses the brand's signature lens technology and laser optics into a device the size of a standalone sound bar. The Cine1 produces a large (up to 100-inch), laser-sharp 4K image from just 6 to 12 inches off of any wall. This streamlines your entertainment setup and doesn't leave a giant black screen in your room when the TV isn't in use. As for sound, Leica squeezed Dolby Atmos surround-sound speakers into the compact box. Its pricey at almost $7,000 but a great way to save space in your living room.
Available in Q2 of 2023 for $6,900
Withings Body Comp Smart Scale
When it comes to health tracking, Withings products receive FDA and expert certifications to ensure that each feature provides clinical accuracy. The Body Comp smart scale is the newest addition to the lineup that checks much more than your weight and body fat percentage. Beyond looking at skeletal mass, Withings claims that you can take a deep dive into your body's blood and nerve health to keep an eye on risk factors for heart disease or diabetes by checking arterial stiffness and electrochemical skin conductance from the feet. Your results are broken down by each stat to provide an overall health score. This pairs with the included Health+ software to make lifestyle recommendations for improving areas in which you're lacking as well as tips for increasing overall wellness.
Available October 2022 for $210
JBL Tour Pro 2 Headphones
There's no shortage of noise-cancelling wireless earbuds, but JBL manages to stand out in new ways. Beyond offering 10 hours of standalone battery life and isolating ANC, the Pro 2's feature a 1.45-inch OLED screen built directly into the earbud case. From here, you can control audio, look through notifications, and check battery life without taking your phone out. It's a fresh idea that's reminiscent of a pocket watch; you can pull out your earbud case for storing away your buds or checking the time then throw it back in your interior coat pocket.
Available January 2023 for $250
Honor Pad 8 Tablet
Affordable Android tablets aren't known for providing smooth performances or capable displays, but Honor's arrival changes that. Its budget tablet sports high-end features like a 2K display and eight speakers with DTS:X surround-sound support. Paper-thin bezels let you immerse yourself in apps, and its Snapdragon 680 chip is no slouch. Sure, it won't play the most demanding games very smoothly, but you can easily binge a TV show or stream a game over the cloud. It breathes new life into what an entry-level tablet can be.
Shark Stratos Vacuum

This isn't your grandpa's cordless vacuum. Shark's flexible Stratos can be bent into virtually any space and includes a sensor that detects surface types and dirt levels to adjust its suction accordingly. It's a passive benefit, as the system consumes less power per use while not requiring any adjustments from you. That's in addition to a new smell filter that reduces the distinct odor that vacuums can produce when running over dust and hair while cleaning carpets.
Hunter Fenollol, our resident expert of all things consumer tech, from smart home to VR gaming headsets, has years of knowledge creating product explainers, in-depth reviews, and buying guides to help you get the most from the latest electronics. Throughout college, he covered and reviewed the latest gadget releases for sites like Tom's Guide, Laptop Magazine, and CNN Underscored. If he's not elbow-deep in the latest hardware, you can find Hunter at one of Long Island's many beaches, in Manhattan, or gambling away his paycheck.