Picture this: Blue-collar workers from a small town in the Nebraska prairie turn the tables on Corporate America by re-equipping an old manufacturing plant and go to work churning out a U.S.-made product that competes head-to-head with the one the former parent company moved offshore. In the process, they buck the trend of shrinking
U.S.-based manufacturing. You'd be mistaken if you thought this was another well-worn plot in a feel-good movie. The story is true and taking shape even as you read this.
More From Popular Mechanics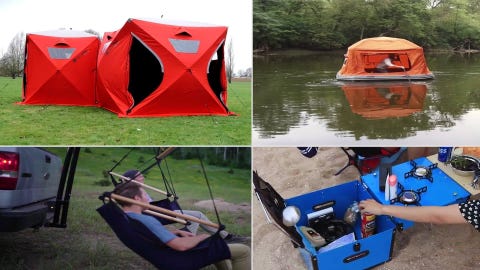 DeWitt, Nebraska is named after a famous 19th-century Presbyterian minister and consists of 515 people spread over 267 acres. A steer's face is worked into the brick monument that greets visitors to the town. It's also the scene of the latest chapter in American versus Chinese manufacturing. Malco Products has reopened the former Vise-Grip pliers factory in DeWitt to make a locking plier, branded Eagle Grip in the U.S.
The original manufacturer of the storied Vise-Grip pliers was Petersen Manufacturing, named after the founding blacksmith, William K. Petersen, a Danish immigrant who patented the tool in 1924. Newell Rubbermaid purchased the Vise-Grip brand and the parent company that owned it in 2008 and promptly shipped pliers manufacturing to China, where it remains. Stanley Black & Decker bought the brand and its parent company in a $1.95 billion deal in 2017. Now, scrappy little midwestern Malco (headquartered in Annandale, Minnesota, population 3,228) is pitted against manufacturing giant Stanley Black & Decker. Malco has a loyal following in the building trades, the kind of customer base that's the envy of many larger companies. They're exactly the kind of people who need a good locking plier.
---
Eagle Grip And American Manufacturing
Vise-Grip had more than a hold on damaged bolts and screws; it had a grip on the people of DeWitt. The plant employed most of the town. At its peak, there were more than 500 employees working at the factory; when the plant shuttered, there were 300 employees. DeWitt was devastated and not only by the loss of work. "They cared about those employees," Cindy Badman, a former employee who worked her way through college at the plant, told the Lincoln Star Journal a year after the plant's closing. At an employee reunion, Badman recalled of the Petersen family who previously ran the factory, "If you had a problem, they would help."
Enter Malco Products, a 100-percent employee-owned business, whose motto is, "Work. Perform. Outlast." In seeking to add locking pliers to its portfolio of tools for craftworkers who build, maintain, and repair heating and air conditioning systems, Malco found the ideal fit in this small Nebraska town. "We found all of that and more in DeWitt," said Mardon Quandt, at the time Malco's President and CEO, in a statement prepared for the plant's re-opening ceremony.
What started as a handful of workers as the plant began reopening three years ago has grown to 67 full-time employees.
Fit and Finish
Eagle Grip locking pliers employ the same sophisticated movement and locking mechanism as all well-known locking pliers. That's still the design pioneered by William Petersen (it's known to mechanical engineers as an over-center cam latch employing a four-bar linkage mechanism). You tighten the adjustment knob on the top handle and when you squeeze the handles shut, the mechanism locks, and the handles stay put. To unlock the pliers, press down on the release lever above the lower handle, and the jaws snap open. The design is brilliant and represents one of the great, under-appreciated achievements in hand-tool engineering.
We've received some samples of Eagle Grip pliers and clamps. Of those, we've tested the 10-inch locking plier. It excels in the luster of its nickel finish, the tightness of its action, and the ferocity of its grip. All of these features are superior not just to the Vise-Grip but to other locking pliers we have tried, most of which are either over-designed or are throw-away commodity products. Eagle Grip pliers are an expensive and robustly built hand tool — and that shows in the cost, which runs roughly three times above what a Chinese-built tool costs. Proudly stamped into the Eagle Grip's handles is Malco, DeWitt, Nebraska, and Made in the USA.
The pliers exhibit a degree of care in both their design and their substance that indicates Malco is aware of some of the shortcomings of competing designs. For example, Eagle Grips have a heavy steel ring fastened to the base of the handle that prevents the handle barrel from spreading apart as you crank down on it using a 5⁄16-inch Allen wrench inserted in the tightening knob. The knob is finished with a black oxide coating for wear resistance, to improve lubricity, and to resist corrosion. Will the average do-it-yourself user need such heavy-duty features? Probably not. But a professional will.

Other features that differentiate the Malco from competing products are its larger, sharper teeth and an additional rivet in the head to prevent the twisting that can occur under severe clamping and turning forces.
---
A Cautionary Tale

It seems the fate of well-made products in the U.S. that the company that makes them is eventually sold to somebody who will ruin the product, wreck the prospects of the people that make it, or both. Furthermore, in this new Golden Age of consumer products, it remains an open question (and perhaps an unanswerable one) whether people want to buy a string of overseas products, wearing them out and disposing of them in short order. Or, do they want more durable products — and are they willing (and able) to pay for them? The old aphorism, "you get what you pay for" is true, but complex. In the case of these pliers, people at least now have the choice.

Trade wars have been with the human race for millennia. (And, running quietly in the background is China's publicly stated policy of fusing military and civil manufacturing.) Many Americans are questioning the wisdom of a business model that leads to manufacturing decay here while arming China.
Who knew that the locking pliers could play a role in such tense international matters? The people of DeWitt, for one.
Roy Berendsohn has worked for more than 25 years at Popular Mechanics, where he has written on carpentry, masonry, painting, plumbing, electrical, woodworking, blacksmithing, welding, lawn care, chainsaw use, and outdoor power equipment. When he's not working on his own house, he volunteers with Sovereign Grace Church doing home repair for families in rural, suburban and urban locations throughout central and southern New Jersey.