Gear-obsessed editors choose every product we review. We may earn commission if you buy from a link. How we test gear.
What 56 'Game of Thrones' Actors Look Like in Real Life
Plus some 'House of the Dragon' transformations that are just as impressive.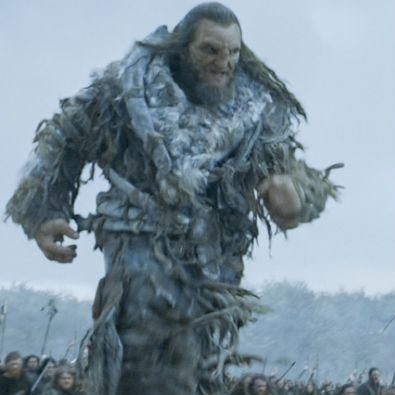 A lot about Game of Thrones blows my mind: the theories, the sets, the special effects, the costumes, and the makeup—especially those last two elements of the show, which aired its eighth and final season in 2019. Turning brunette Emilia Clarke into platinum blond Daenerys Targaryen? Making The Mountain look like...a blue zombie? Some of that stuff is straight-up wizardry. So to celebrate the show's upcoming prequel, House of the Dragon, we're rounding up images of GoT cast members and juxtaposing them with what the actor looks like in real life—and don't worry, we included a few stars from the spinoff too.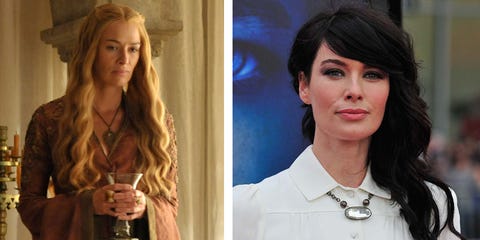 Cersei Lannister (Lena Headey)
Transformation on a 1 to 10 scale, 10 being the most drastic: 9. Cersei had the looks of a sweet fairy tale princess and the heart of a villain; Lena, with her jet black hair, avant-garde hairstyles, and bicep tattoo, looks like one tough lady...but is probably a very nice woman, obviously.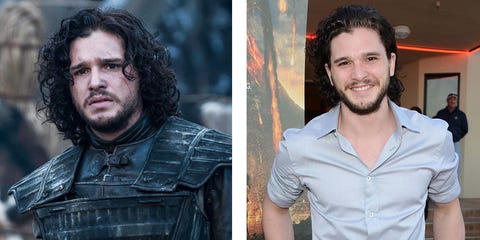 Jon Snow (Kit Harington)
Transformation: 1. Is there anything different here other than a dollop of hair gel?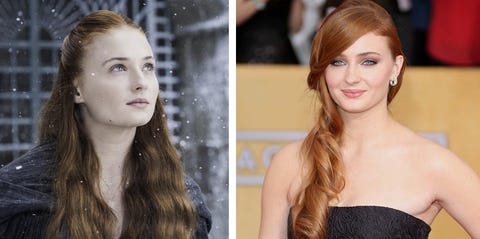 Sansa Stark (Sophie Turner)
Transformation: 6. IRL, she's A) happy and B) not sickly pale.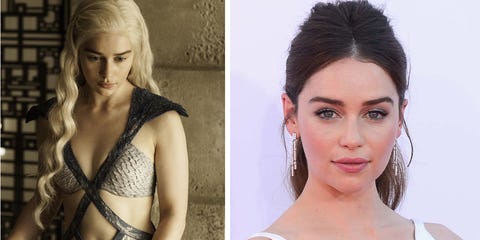 Daenerys Targaryen (Emilia Clarke)
Transformation: 9, because Khaleesi was as known for that blond hair as she was for those dragons.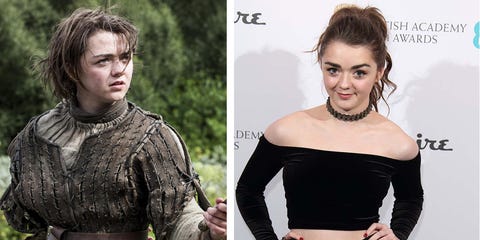 Arya Stark (Maisie Williams)
Transformation: 6, because if Arya lived in present day she wouldn't be caught dead in Maisie's crop tops and hair extensions.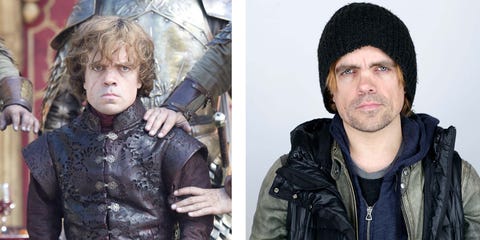 Tyrion Lannister (Peter Dinklage)
Transformation: 4 for added badass-ness. Less floppy hair and fewer kilts, more beanies and bombers.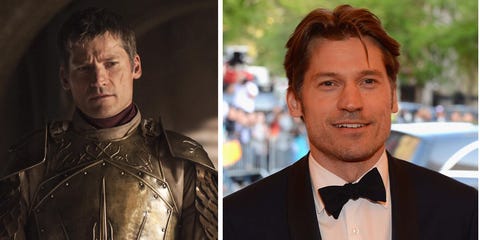 Jaime Lannister (Nikolaj Coster-Waldau)
Transformation: 2. You look basically the same either way, Nikolaj, which is to say: SEXY.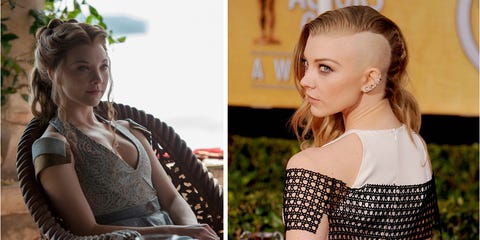 Margaery Tyrell (Natalie Dormer)
Transformation: 10. Skrillex hair, people, Skrillex hair. (Natalie Dormer sported it for another role, but still.)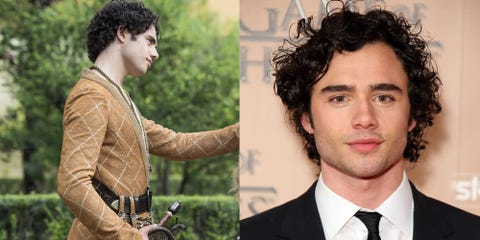 Trystane Martell (Toby Sebastian)
Transformation: 4, because what is UP with his skin tone on the show? Toby Sebastian is so hot in real life. But on the show he was...kinda ghostly looking?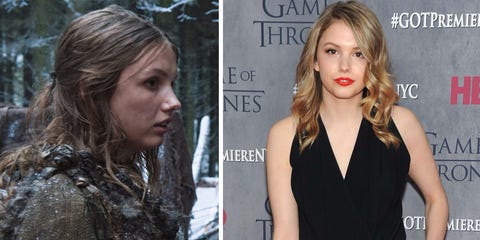 Gilly (Hannah Murray)
Transformation: 7. Amazing what a blowout and a coat of red lipstick can do, right?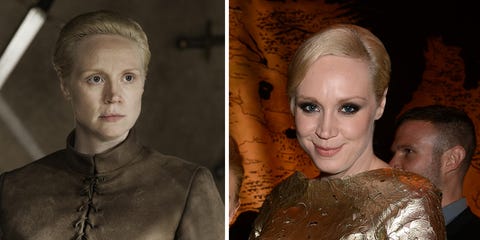 Brienne of Tarth (Gwendoline Christie)
Transformation: 5. The makeup's different, but height is the British actress' most marked physical characteristic (she's 6'3"), and that goes with her everywhere, on set and off.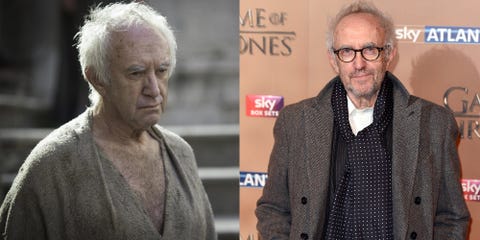 High Sparrow (Jonathan Pryce)
Transformation: 7. Sure, Jonathan's real-life glasses change things, but dude? He doesn't even really look like the same person in the show. (The eyebrows, the facial hair...the dapper gent vs. the disenfranchised, doesn't-care-about-material-possessions man.)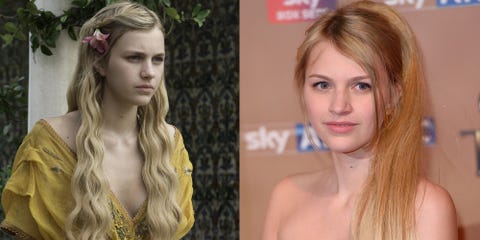 Myrcella Baratheon (Nell Tiger Free)
Transformation: 5, because in real life the actress has naturally straight hair. It takes tiiiiime to get perfectly wavy waves, as we all know.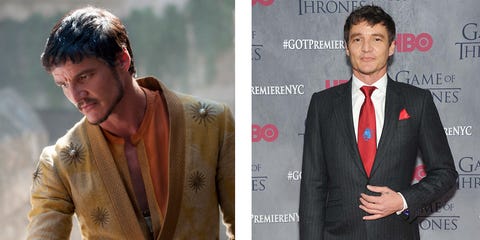 Oberyn Martell (Pedro Pascal)
Transformation: 4, because the facial hair changes up his game.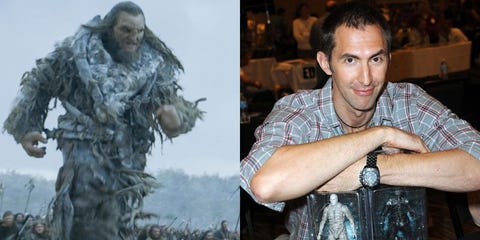 Wun Weg Wun Dar Wun (Ian Whyte)
Transformation: 10, for obvious reasons. It takes acting chops and a serious amount of time spent in the hair and makeup chair to play a giant.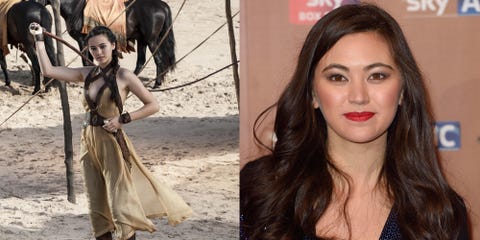 Nymeria Sand (Jessica Henwick)
Transformation: 3.6...all because of the brows. The arched, semicircle brow shape she prefers in real life gives her face a much different look than the straighter eyebrows she sported on the show.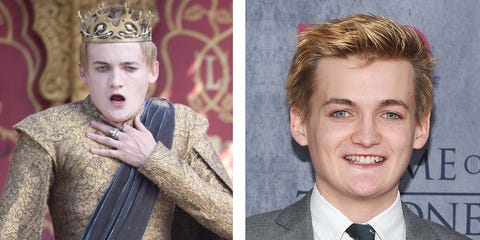 Joffrey Baratheon (Jack Gleeson)
Transformation: 10, but only because he's smiling. JOFFREY NEVER SMILES (unless he's torturing a kitten).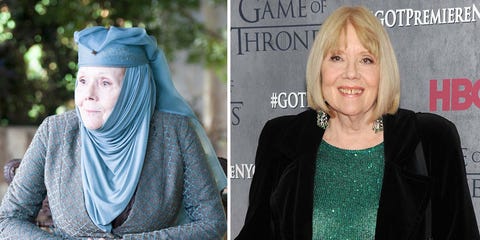 Olenna Tyrell (Diana Rigg)
Transformation: 4, only because we never actually see Olenna's hair, just those scarves.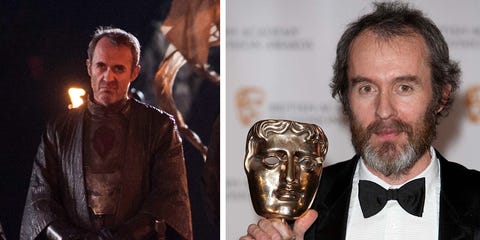 Stannis Baratheon (Stephen Dillane)
Transformation: 2, which is probably pretty arbitrary, but the real-life facial hair sort of made me think Stephen Dillane was Steven Spielberg.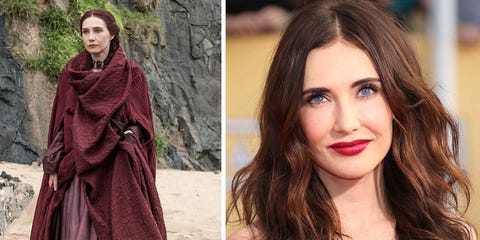 Melisandre (Carice van Houten)
Transformation: 8, because if Melisandre were THIS gorgeous on the show, it would be too distracting.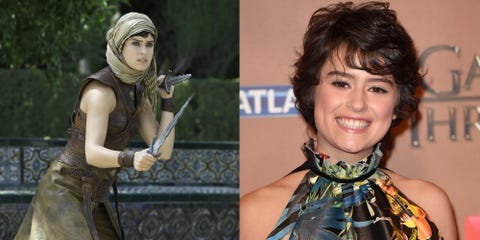 Tyene Sand (Rosabell Laurenti Sellers)
Transformation: 2. Rosabell, a season 5 addition to the cast, has a totally different eye makeup game in real life...but the rest? Yep, pretty much the same.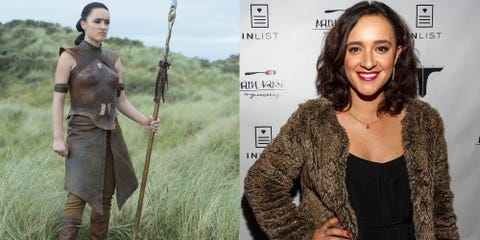 Obara Sand (Keisha Castle Hughes)
Transformation: 3. Keisha Castle Hughes is so much more feminine and smiley in real life than her GoT character was.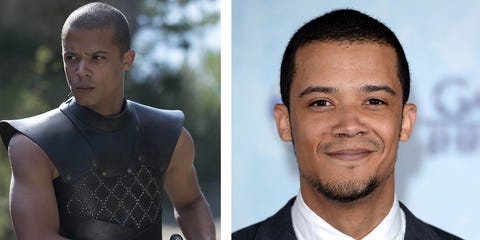 Grey Worm (Jacob Anderson)
Transformation: 4. 1 point because he doesn't keep his hair shorn so short in real life, and 3 points because he is allowed to wear sleeves! (Did I mention this system was arbitrary?)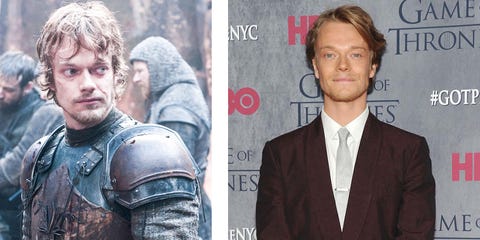 Theon Greyjoy (Alfie Allen)
Transformation: 8, but only because Alfie Allen doesn't have the look of someone tortured until his breaking point. (Good thing it's not the other way around?)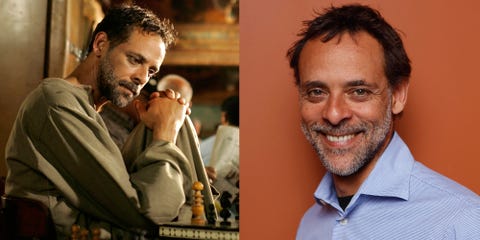 Doran Martell (Alexander Siddig)
Transformation: 0.5. For Alexander Siddig, even the stubble was the same on the show.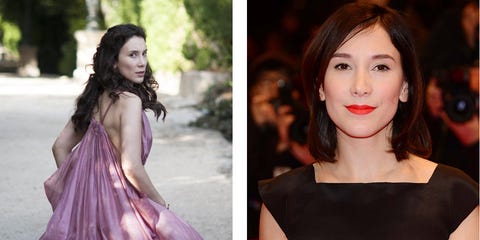 Shae (Sibel Kekilli)
Transformation: 5, because of the switch from long, flowy waves to a sleek lob.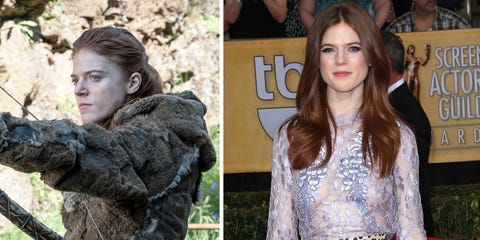 Ygritte (Rose Leslie)
Transformation: 6. 3 points because dannnnng, that ain't no Wildling, and 3 points for fashion.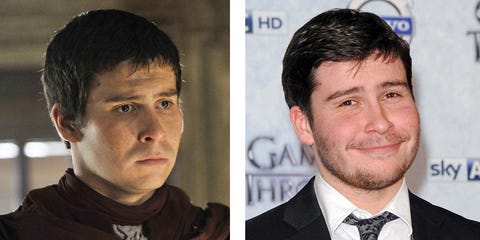 Podrick Payne (Daniel Portman)
Transformation: 1? Did this guy even have to stop in the hair and makeup trailer, like, ever?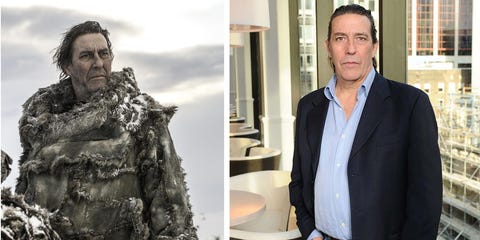 Mance Rayder (Ciarán Hinds)
Transformation: 2. I hope this isn't mean to say, but Hinds is just a formidable guy! Foreboding presence? Stern face? Check. Check. Everywhere. Okay, he's much more clean.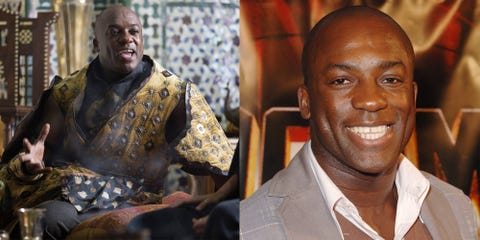 Areo Hotah (DeObia Oparei)
Transformation: 0? Same thing as Jon Snow: For DeObia, his transformation was all in the wardrobe.