Gear-obsessed editors choose every product we review. We may earn commission if you buy from a link. Why Trust Us?
The 8 Best Wakeboards for Every Rider
Clear the wake or head to the cable park with these eight capable boards.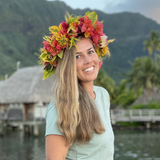 By Chantae Reden
There's fun to be had on just about every body of water as long as you have a wakeboard under your feet. In the past few years, wakeboard brands have been going head-to-head to see who can come up with the most innovative designs for the season—the wakeboard market has never been more exciting.
Whether you're looking for the best model for clearing the wake behind a boat or preparing for a day out at a cable wake park, I've selected the best wakeboards for every budget and skill level.
Best Wakeboards
The Expert: I have over 20 years of wakeboarding experience and have tested over a dozen wakeboards of various makes and models. My childhood summers were spent wakeboarding on any lake my dad could launch his boat, with California's Bass Lake as our home base. Later, I cofounded my university's wakeboard team as an excuse to test out new wakeboards and ride as often as possible.

Today, I wakeboard behind any boat that will take me in the tropical waters of Fiji. My love of watersports led me to create The Salt Sirens, a website devoted to water-based action sports. I also consulted professional wakeboarders Liam Peacock and Harley Clifford for their recommendations and advice.
What to Consider
Length and Shape
Length is one of the most important factors when choosing the right wakeboard. Most wakeboard brands release a size chart that correlates a rider's weight to the most suitable board length. "If you're taller and heavier, you will want a bigger board (150 to 153 centimeters)," professional wakeboarder Liam Peacock says. "If you're a little kid who is learning, you'll want something like a 128 to 132 cm size board." A rider who is between 130 and 180 pounds should look at a wakeboard in the 135 to 139 cm range. When in doubt, err on the larger size of the scale.
The curve of the bottom of the board, called the rocker, influences how a wakeboard will ride. Wakeboards tend to come in two rocker types: continuous and three-stage. A continuous rocker connects edge-to-edge in a smooth arc. A three-stage rocker has a flat base with upturned edges. Continuous rockers are generally more predictable to carve, track well, and are easier to land jumps with. Three-stage rockers are ideal for getting extra height when popping off the wake and can have a more playful feel on the water.
Like on a snowboard, bindings secure your boots to your wakeboard. Some wakeboards come as a package with boots included, but others are sold as the board only. Make sure to budget for the additional cost, and purchase boots within the size range of your running shoes.
More Ways to Soak Up a Water-Filled Summer: The Best Kayaks for Fishing and Floating • Block UV Rays and Pesky Bugs with These Beach Tents • Inflatable Standup Paddleboards Combine Capability and Portability
Boat vs. Cable Park Board
Gone are the days where you need a boat to go wakeboarding. As cable wake parks become increasingly popular, wakeboard brands are adapting their boards to suit different terrains. Boat wakeboards tend to be stiffer and have molded fins that help the rider track behind a wake. Cable boards tend to have a flexible wood core and reinforced grind bases for durability on boxes and rails.
Skill Level
Professional wakeboarder Harley Clifford advises wakeboarders to choose a board with features that match their skill level: "Do you want a board that feels fast on the water, do you want a board that tracks into edges easily, or do you want a board that's forgiving?" Answering these questions will point you in the right direction. Beginner wakeboards tend to be stable and easy to maneuver. Intermediate to advanced boards allow more flexibility in riding style, catering to tricks and jumps—though they're not the most forgiving if you land at a wrong angle or encounter chop.
How We Evaluated
These board choices reflect my years of expertise and experience, podium-winning models used by pros, best-selling models from trusted brands, as well as wakeboards that have scored high marks at outlets such as Alliance Wake. I also checked wakeboard forums to ensure I considered all the top models. During my evaluation, I factored in durability, brand reputation, value for the money, and how accurately each wakeboard performed within its type.
Advertisement - Continue Reading Below
Advertisement - Continue Reading Below
Tips to Make the Most of Your New Wakeboard, According to Expert Chantae Reden
Chantae Reden
Any advice for wakeboard newbies?
New wakeboarders usually struggle with standing up. When you're in the water with your board and the rope, keep your knees bent, almost as if you're sitting in a chair. Wait until you're directly behind the boat with the rope resting between your knees and over the board. Once there's a little tension on the rope, signal to the boat driver to hit the gas.
Keep your knees bent as you come out of the water—this will help you stand up without toppling over the board. Don't get discouraged if you don't get it the first try—it can take a few attempts to get the technique down. Consistency and persistence is key to learning how to wakeboard.
What's the one must-have feature or criteria you have when shopping for a new wakeboard?
I always prioritize the size of the wakeboard when shopping for a new one. While there's a general range most wakeboarders will be able to use in correlation to their height, weight, and skill, a wakeboard that's either too large or too small will be difficult to control. It will limit what you can do on it.
Likewise, if the board's bindings are too tight, they'll be painful to wear and will inevitably cut your wakeboard session short. If they're too big, you'll lack control over the board. If one foot falls out of a binding, both legs are more prone to injury as they receive uneven pressure and torque from the impact of the water.
Besides a board, what other gear do you need to wakeboard?
You'll need wakeboard bindings to secure your feet to the board, and a life jacket to keep you buoyant in the water. A helmet is a great idea as well, especially for those who plan to wakeboard over any park features. If you're wakeboarding in cold water, a wetsuit will keep you toasty as you ride.
Some wakeboarders also find it more comfortable to wear gloves to stave off chafing and blisters from holding onto the rope. Of course, you'll also need a rope to tow you and a boat to pull you. Aside from the boat driver, a safety person should also be onboard to alert other boats and the driver when you fall.

Chantae Reden is an adventure writer and photographer who rarely strays far from the coastline. She is a freediver, surfer, kitesurfer, paddler, scuba diver, and has a mild obsession with sharks. She has ridden a motorcycle through East Timor, scuba dived with tens of bull sharks in Fiji, and swam beside humpback whales in Tonga. Her work has appeared in Travel + Leisure, Escape, AFAR, Lonely Planet, and she is a guidebook author for Moon Travel Guides. Contact Chantae on her website, ChantaeReden.com.