Silicon Valley's recent attempts at smart glasses have focused on reducing the amount of stuff you have to carry by adding camera and audio technology to your face. While this offers a glimpse into the future of wearables, they don't change the way you see the world around you. Augmented Reality (AR) technology overlays digital imagery atop the real world through your lenses for helpful applications like translating text in real-time or providing directions in your field of view. Despite these types of devices launching in other countries (and rumors of Google and Apple AR headsets swirling), there still hasn't been a U.S.-wide launch for a pair of everyday smart glasses. Viture and its One smart glasses aim to change that. They're the same size and weight as an average pair of sunglasses, but unlike your standard shades, this accessory projects a virtual 120-inch screen at a distance of around 10 feet ahead of you.
The One's included neckband acts as a battery-powered streaming device. It runs Android TV OS so that you can access Google Play Store apps like Netflix for streaming video or GeForce Now for cloud gaming on a massive display. But you don't need to have internet access to enjoy them, as the glasses can connect directly to any USB-C device that supports video output. That means you can use your Android phone, handheld gaming console, and even your laptop as a video source for a personal theater-like experience from anywhere. Viture isn't the first company to make these kind of screen-projecting glasses, but it is the closest to launching in the United States, with a planned release set for early next year. It's easy to create images and hype videos that show off the concept, but another to deliver on it. So I trekked to Manhattan last week for some hands-on time with the Viture One.
Stylish Smart Glasses For Work And Play
Many people prefer bigger TVs or monitors because larger displays are more immersive. You can see more information on a screen while getting work done or widen your field of view to take in more details while playing games. When I need to switch to smaller (between 6- to 8-inch) mobile devices like my phone or Nintendo Switch, the contrast is stark. Ironically that holds true now as I write this sentence from my iPhone's 6.1-inch screen, not the much larger ultra-wide monitor I work on daily. This is one of the reasons why smart glasses that can pack a 120-inch screen into your pocket are so appealing.
More From Popular Mechanics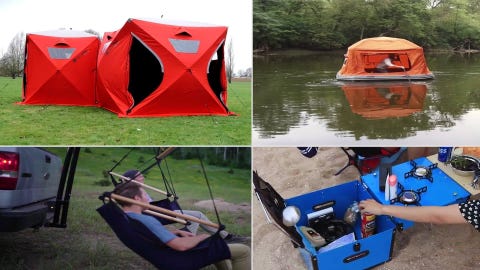 After I slid the glasses on, a Viture rep handed me a Steam Deck handheld gaming console with the One's USB-C cable already attached to it. On the other end of the USB-C wire is a magnetic connector, which attaches to a pogo pin slot on the right arm for quick connections and unplugs—not too far off from a Fitbit or MagSafe charger if you've used one of those. Once this is snapped in place, the glasses transmit the visuals onto the virtual screen. Since the video source was coming directly from the device in my hands, the visuals had no lag. Meanwhile, the screen locked to the center of my vision. No matter how much I bobbled my head, reclined in a chair, or adjusted the fit, the picture stayed pinned to the center of my vision without a shake or stutter. That gives me confidence to assume that you can easily use it while in motion, like on a bus or plane with light bumps or turbulence.
After loading into the video game Elden Ring, I found the visuals were sharp and fluid in the projection ahead of me. I've logged dozens of hours playing this game on a TV, so I'm familiar with the little details like environmental textures and colors of foliage down to the minute patterns of enemy boss armor designs. To my eye, the virtual screen looked just as good as my 65-inch TV at home. In fact, I might even prefer playing on the glasses than on my living room TV from the couch. That's because the blue lenses, which shade the sides of the screen, funnel your eye's focus directly to the action. This boosts immersion and revealed surprisingly sharp visuals even at the edges of the display, which can often soften or pixelate. If you're near-sighted, the rotary dials at the top of the frame adjusts the lenses between a 0 and -5.00 D focal distance to sharpen the picture. So don't worry if you can't wear your normal glasses.
No, the One isn't pushing out a 4K resolution, but playing Elden Ring on high settings at 1080p with buttery smooth 60 frames per second felt great. A private screen can sell the video crowd, but this high level of performance really makes this a feasible option for gamers. Elden Ring is infamous for its punishing difficulty which requires precise timing. And I'm happy to report that the One's responsiveness is tight. Rolling, slicing, and jumping all felt fluid without any drops in frame rate or visual artifacts. Viture opted for the blue lenses I mentioned above because, while they provide shade, they're still transparent so that you can see the world around you. But if you need to pull further out of your AR view, you can use ambient mode to condense the screen into the bottom corner of the glasses. That's especially useful when passively watching a video.
A Standalone Streaming Device
Next I tried watching video using apps from Android TV OS. The neckband's controls are tactile enough to differentiate which button you're touching, whether it's the clicky directional pad, side volume and power controls, or dedicated voice assistant and gaming button. From the main menu, you can navigate through streaming apps, pulling up and watching Netflix or Hulu in a personal environment with a solid screen that you can't see past. While the screen is curved, I didn't notice a drastic bend. In shows and movies, objects were sharp and there was no perceptible fuzziness. Viture claims the One's virtual screen is equal in resolution to a physical screen at around 350 pixels per inch. Colors are vibrant and bright without falling flat. In my limited time with the onboard audio, I'd still prefer wireless headphones or earbuds with active noise cancellation or spatial audio for maximum immersion over the built-in ones. The One's sound is a bit distant and compressed.
The glasses look as good as they work, boasting a subdued everyday style akin to a pair of Ray-Ban or Oakleys. Plus they come in four colors so that you can customize your look. This is a welcome change, as rival designs are toy-like, bulky, and futuristic with strange angles and shapes. Naturally, the One's streetwear-like body lends itself to a comfortable fit evenly distributing the 78 gram weight across the ears and nose. As I slipped them on, they felt like an ordinary pair of glasses, which is a significant achievement for an extended reality (XR) device. You don't need to strap yourself into an uncomfortably bulky headset, you can stay aware of the world around you with transparent shades on the sides, and the glasses are easy enough for anyone to pick up and use. To get the right angle and properly center the screen, I had to move the glasses slightly lower than I'd normally wear them, toward the bridge of my nose. Granted, I was trying a demo unit, but I'm not so sure the adjustable nose pads would help the fit as much as tweaking the direction the internal projector aims would. The Ones feel secure wherever they come to a rest, but as glasses, they should fit atop my eyes without any gaps. At the moment I'll blame my honker for this.
Overall, I walked away from the demo very impressed. At $588 for both the glasses and neckband, you get a standalone wearable computing system. You can create a private screen anywhere you go for working, watching movies, or playing games. And if you plan to use just your existing USB-C gadgets, the price of the glasses alone comes down to just $488. That sub-$500 price tag is relatively affordable in a landscape that includes competitors like Lenovo's T1, which are expected to exceed $700. While these smart glasses are an obvious fit if you commute or travel often, there are many applications I could see myself using these in, like catching up on a show during a lunch break or plugging in my laptop for a private workspace. The practical, stylish design and capable performance feel about ready for the big time; I didn't get the vibe that the One is a prototype, like many previous models that we've heard about just for them to disappear into obscurity. And lightweight glasses like these slip on and off and are more accessible than even the lightest consumer VR headset, if full immersion isn't your thing.
Hunter Fenollol, our resident expert of all things consumer tech, from smart home to VR gaming headsets, has years of knowledge creating product explainers, in-depth reviews, and buying guides to help you get the most from the latest electronics. Throughout college, he covered and reviewed the latest gadget releases for sites like Tom's Guide, Laptop Magazine, and CNN Underscored. If he's not elbow-deep in the latest hardware, you can find Hunter at one of Long Island's many beaches, in Manhattan, or gambling away his paycheck.